Jimmie Allen
Thursday July 18
For breakthrough country artist Jimmie Allen, a simple phrase sums up his view on life and music: Never give up.

A native of Southern Delaware – the region he describes as the "slower, lower" part of the state, and locale of Mercury Lane (the namesake of his debut album) – Allen has carried that mantra with him through good times and bad, whether than meant living in his car or rocking amphitheaters on Toby Keith's Interstates & Tailgates Tour.

"I didn't quit, I never will," he says. "Stuff ain't easy, and you shouldn't quit either. There's a big difference between busting your ass, and sitting on it."

For Allen, musical dreams and a love of true-to-themselves artists like Alan Jackson, Aaron Tippin, Montgomery Gentry, and Jason Aldean brought him all the way to Nashville – and eventually around the world for an Armed Forces Entertainment tour of Japan.

But it was actually a nightmare which turned this promising singer into the artist he is today. After a series of bad breaks Allen was forced to live in his car, too proud to ask for a bail out. For months he worked multiple jobs and finally saved enough for an apartment but hit then another snag – Country music wasn't ready for him.

"People were just trying to help," he says now. "But they wanted me to change my sound and told me I had to lose my boots. The turning point came when I stopped listening, and finally let my music be a natural reflection of who I am."
Since then Allen has been following his own compass, and it has lead him somewhere special. Now signed to BBR Music Group/BMG, his diligence is paying off. Kicking off 2018 being recognized on nearly every "Ones to Watch" list, this year has proved to be a turning point in the singer's career as he raced through milestones that most only dream of—earning a standing ovation while making his Grand Ole Opry debut, cracking the Top 20 with his first-ever single and checking off many major bucket list items in between.
"I don't regret the hard times," he explains about his trials. "I think each thing you go through adds a layer, whether it's a layer of toughness, perseverance, motivation, or just a layer of wisdom. At the end of the day you come back to what you know, and what's embedded in you."
What's embedded in Allen is a powerful, soulful sense of groove – "If my body don't move in the first four seconds, it ain't for me," he says – a love of deep messages and a knack for razor-sharp hooks.
Those driving forces formed the bedrock Allen's debut self-titled EP, a cutting-edge mix of country, rock, R&B, and pop which digital streaming fans across all genres instantly latched onto when it dropped in October 2017.
"The response to my EP was incredible, I remember being onstage one night last November and nearly fell speechless as the entire crowd sang 'Underdogs' back to me for the first time—I'll never forget it, it was a true 'pinch me' moment, especially because that song has become somewhat of the anthem for me and my journey."
Mercury Lane, Allen's first full-length album, delivers upon the same infectious groove that struck fans in his EP. Kicking off with dance-worthy tunes like "American Heartbreaker" and "Make Me Want To," listeners will get an immediate helping of Jimmie's signature playful sound. Rounded out by more introspective songs like "Wait for It" and "High Life," as well as tracks like "Boy Gets a Truck" and "Love Me Like You Do" that allow his buttery smooth vocals to soar, Mercury Lane showcases the many sides of Jimmie Allen.
Family, as suggested in the heartfelt ballad "Warrior," is a concept clearly central to the story of Jimmie Allen. Carrying a piece of them, wherever he goes, Mercury Lane takes its name from the street he grew up on as an homage to the origin of his story and the people that molded him.
"Mercury Lane is where my journey began. All of the fundamental life lessons that shaped my values, I was taught on that street—its where I learned about love, life, how to believe in myself, the concept of never giving up, following your dreams and being a good person. I credit my time spent there with my family for shaping me into the man I am today."
Allen's hard-won dreams are finally reality, but he knows he can't rest now. Often found in his back pocket is a scarf from his late grandma which he carries to stay motivated.
"To me it serves as a constant reminder of where I came from, what it took to get me here, and my drive to keep pushing forward," he says.
With that attitude, it seems like this is just the beginning for Allen.
For More Info Visit www.JimmieAllenMusic.com
Runaway June
Thursday July 18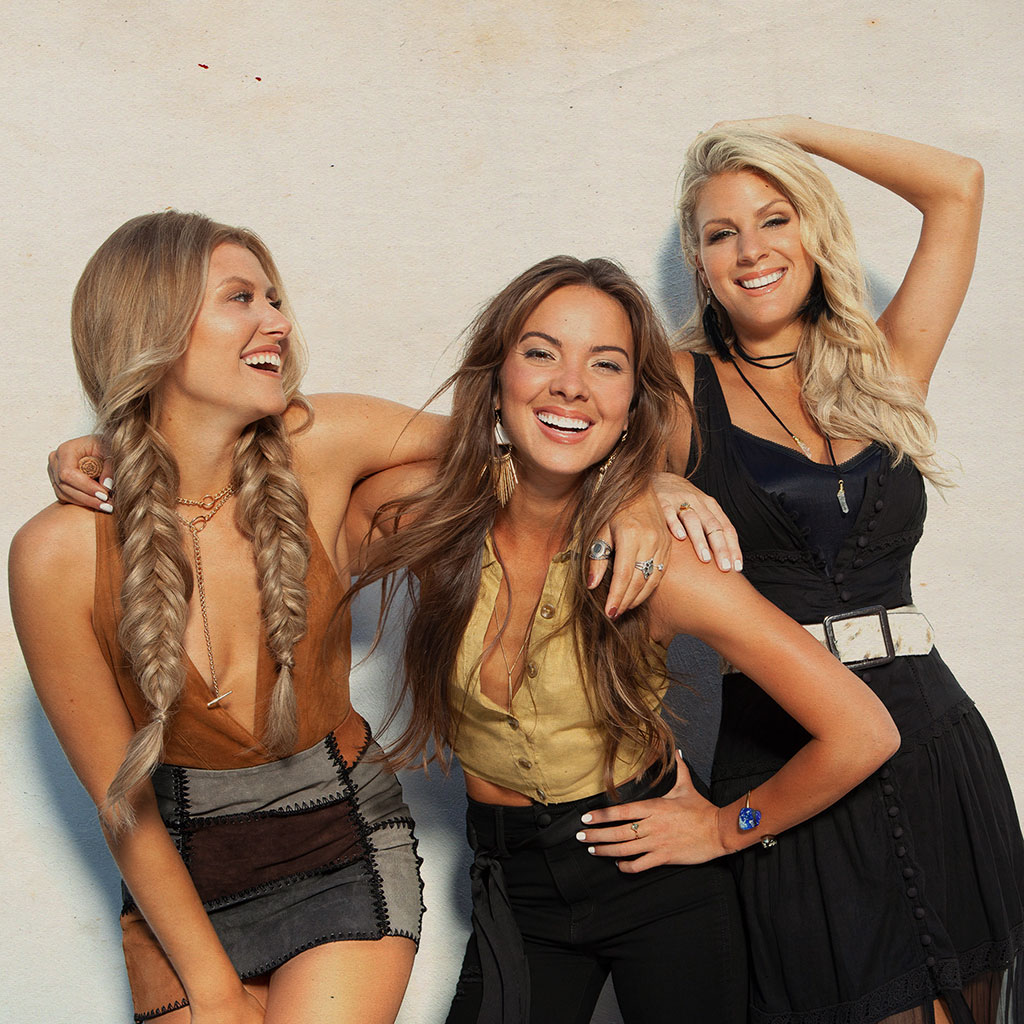 There's a sound that hasn't been heard on country radio in quite some time – the sound of organic, three-part female harmonies, ringing strings and stories that speak the language of modern women everywhere. It's a sound that was the backbone of a little group known as The Dixie Chicks, and now it's making a comeback through a vocal trio named Runaway June.

Rootsy, brightly colored and mixing bluegrass tradition with dusty desert cool, Runaway June is comprised of three very different women who fuse their own influences to create a style country fans have been craving.

With their debut single, "Lipstick," Runaway June became the first all-female trio in over a DECADE to score a Top 25 hit. With the help of the trio's follow-up Top 40 single "Wild West" the breakout trio earned a 2018 ACM nomination for "New Vocal Duo or Group of the Year".

With their current single "Buy My Own Drinks," co-written by Runaway June and Hillary Lindsey and Josh Kear, the trio is primed to cement their identity as one of the best new groups in the genre. The song is an instant singalong that neither laments, caters to, bashes or attacks the loss of a relationship but rather celebrates the freedom, spirit and independence of a female having a night out on her own.
Lead singer and guitarist Naomi Cooke recalls the thrill and immediate connection that came with introducing the new song to the world, "The first time we played 'Buy My Own Drinks' was at Stagecoach. We had just gotten the final mixes back on the recording and we had been rehearsing it with the band and we were so excited to try it out and let everyone hear what we had been working on. By the second chorus everyone was singing it back. It was beyond wild for us to see that happening. It was one of the most exciting moments in our group history…we really felt something different happening."
Their forthcoming EP, produced by acclaimed producer Dan Huff (Keith Urban, Rascal Flatts, Steven Tyler Thomas Rhett, Brett Young), is a collection of songs that highlight different sides of the group while leaving the listener understanding exactly what kind of ride they are in for with Runaway June. With eclectic personalities, a listen through of their songs makes seemingly disparate images such as gypsy bohemian chic, sunsets over sand and ocean, and roots in bluegrass and classic western all blend into one timeless vibe.
Naomi Cooke grew up in Florida enchanted with the other-worldly vocals of Alison Krauss, then made her way to a stage in Nashville's world-famous Tootsie's Orchid Lounge.
Singer and mandolin picker Hannah Mulholland was raised in Malibu, Calif., a nature-loving hippie chick who latched on to the liberating messages of Sheryl Crow and began writing her own music at 6 years old.
And singer/guitarist Jennifer Wayne – another California native – is a Garth Brooks lover so dedicated to country music she gave up a pro tennis career to write songs in Nashville ("She Don't Love You" by Eric Paslay), and happens to be the granddaughter of Hollywood legend John Wayne.
Each of these talented young ladies were unsurprisingly Dixie Chicks fans, and each could have been a solo artist in her own right. But after forming a friendship and discovering their shared love for acoustic soul, soaring vocals and do-it-yourself positivity, Runaway June was born.
Their name is an ode to their separate histories and their mutual bonds. They each felt pulled to "run away" from their homes and toward their dreams to find themselves part of something bigger. As for "June," both Jennifer's grandmother and one of Naomi's sisters are named June, a strong symbol of the family the trio has become. Hannah's life changed in the month of June when she moved to Nashville. It also served as the cathartic month in her life another time when she completed a 25-day, 220-mile life-changing hike. Not to mention, as fate would have it, the trio signed their record deal in the month of June.
Signed to Wheelhouse Records an imprint of BBR Music Group, the first thing listeners will notice is the trio's obvious musical connection, and their stunning three-part harmonies – natural and effortless in feel.
"I grew up in choirs singing low harmony, Jen naturally sings high harmony and Naomi has this perfect mid-range voice," Hannah explains, surrounded by her bandmates in a Music Row conference room. "If we all switched positions, it wouldn't be the same."
Just as impressive is their musicianship, a modern twist on a way-back sound that sets Runaway June apart from the pack as a true, self-contained band. "Our brand of music is tied to country's roots in that it's all real instruments and real sounds," Hannah adds. "But I feel like we have a modern take on it lyrically."
Indeed, as strong women who are not afraid to take risks in achieving their goals, empowerment is a recurring theme for Runaway June – and not just female empowerment. "We want to be inclusive," says Naomi. "We want to sing to everybody, so we steer away from being super negative to either gender."
In a time when female voices have been squeezed into a few narrow categories at country radio – the bad girls, the good girls, the crusaders – Runaway June want to break the mold. They know women's lives are far more diverse, and even though their sound is rooted in the timeless, their stories are very much of the here and now.
Says Naomi, "We are modern women living in a modern world, so what we say and what we want to write and sound like is modern, without even trying." Continues Jennifer, "Everything we write is what we know – it's from the heart."
"It's like 'Here we are! We're a vocal trio. It's gonna be harmonies,'" says Jennifer. "For some reason, whatever we have together really works. I feel like what I'm lacking they have and what they're lacking I have. We're great individually, but we're the best together."
"Without planning it, we all have the same taste in music and the same feel for it, and the same things we want to say," Naomi agrees. "You can't really design that."
With that, the new trio lock eyes and smile, sharing a silent moment of realization before Jennifer sums up their happiness: "I think we all know we have something special."
For More Info Visit www.RunawayJune.com