The Leroy Van Dyke
Country Gold Tour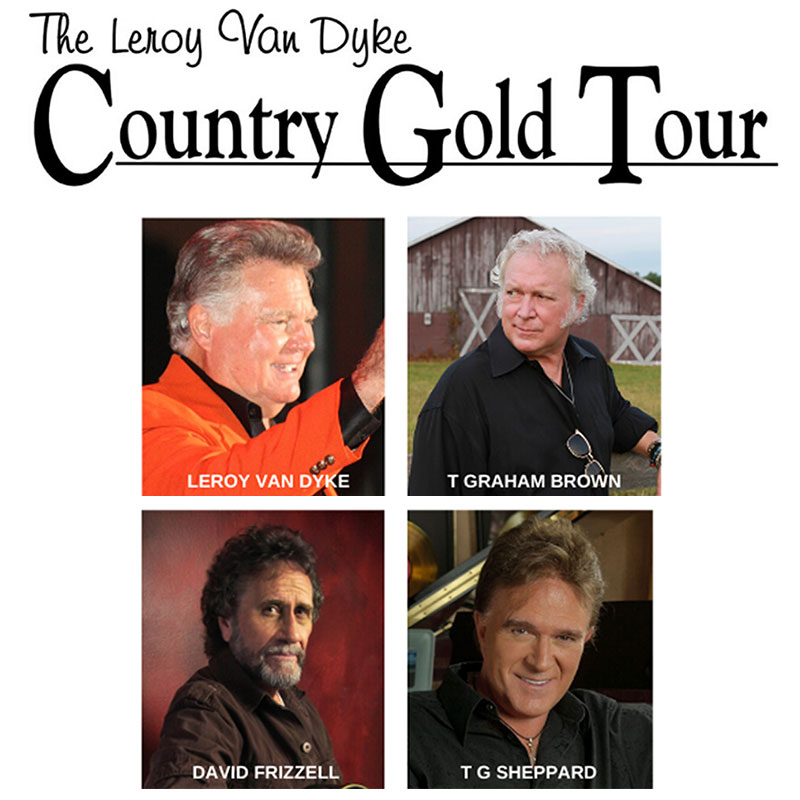 For all you country fans who love the classic country sound, we're proud to present some of the greatest names and greatest voices around. Join us for an entertaining evening of pure classic country with The Leroy Van Dyke Country Gold Tour. Scheduled to appear in this unforgettable concert are:
Leroy Van Dyke and his band – Singer/songwriter Van Dyke is best known for penning the country novelty standard "The Auctioneer" and the country-pop smash "Walk on By."
T Graham Brown – with #1 hits "Hell and High Water", "Darlene", and "Don't Go to Strangers" as well as 8 more top 10 hits that you never forgot and will love hearing again.
David Frizzell – Country Music's Grammy nominated, CMA & ACM Award winning entertainer. Singer, Songwriter, Host of Frizzell & Friends TV Show and author of the new book "I Love You A Thousand Ways" the Lefty Frizzell Story
T G Sheppard – and his record 21 Number One singles during his show-stopping musical career including "Last Cheaters Waltz", "I Loved 'Em Everyone", "Do You Wanna Go To Heaven", and "Party Time".
Don't miss your chance to see and hear some of classic country's finest!
For More Info Visit Country Gold Tour on Facebook